Curious about what to expect from a bra fitting? We asked one of our customers to share her experience. Here's Diane's description of visiting one of Allure's fitting consultants for the first time.
I always dreaded shopping for bras, and by the time I visited Allure Intimate Apparel my supply was well past its expiration date.
Why did I dread it? Why did I let my supply get so worn out and tired? Anyone reading this probably knows. You set aside time, you bring armfuls of sizes and styles and brands into the fitting room, you hope you'll find something that works, and after trying on 20 or so you've had enough. You go with anything that's OK enough.
At least that's been my experience.
The first thing I loved about visiting Allure was knowing I wouldn't have to go through that trial-and-error torture. The second thing I loved was chatting with my fitter, Sara, who made me comfortable and confident as we discussed what I was looking for.
After Sara showed me to Allure's pleasant, private fitting area, I explained I wanted a smooth silhouette that would give me lift and shape when I wore something tailored or close-fitting. And I was tired of having gaps, bulges or bra lines show under finer fabrics, which Sara assured me could be fixed with the right fit.
After many years and hundreds of bras, I admit I was skeptical. By the time I left, I realized I didn't need to be.
Here's How It Worked
Sara measured me, explaining that the band — not the cup, as I had thought — was the most important place to start. Many components of a bra are proportionally sized based on the band, which does most of the hard work. If the band fits properly and comfortably, without rising up your back or chafing, that means you're on the right track. Bonus: your straps won't fall down because they'll be proportionate to your fit. Turns out that cinching them until they pinch is NOT the solution.
Sara brought three bras for me to start with. She asked if I'd like help fitting them, and I did. I faced the wall while she helped me into each and made sure they were adjusted properly. The first two were huge improvements over anything I had worn in years, maybe ever. They were pretty, too. If I had been alone, I might have bought them on the spot.
But they didn't pass muster with Sara. The gore on one was too snug and would have caused discomfort against my sternum. The band on the other was "unnecessarily tight," she said. A third was better, but Sara wanted to try some more options.
Sara explained that different styles from one brand that are sized the same will fit differently. "You're never one size in bras." Once she saw how the first selection fit me, she chose slightly different sizes for the next batch based on how each particular bra was designed. Left to my own devices, this would have taken me much more time. Sara and all the Allure fitters have to learn the characteristics of every brand and every style they carry. "Otherwise, we would be bringing you too many bras to try on and it would be overwhelming." That's pretty impressive considering they carry 135 sizes, not to mention many brands and styles.
By the third round of choices Sara brought me, I had found three bras we both felt happy with. Wearing each of them with my blouse, I could see I had more lift than I thought was possible in a comfortable bra.
I had resigned myself to just being a little low-slung, as I like to put it. Now I wasn't. After all these years, it felt like a little miracle.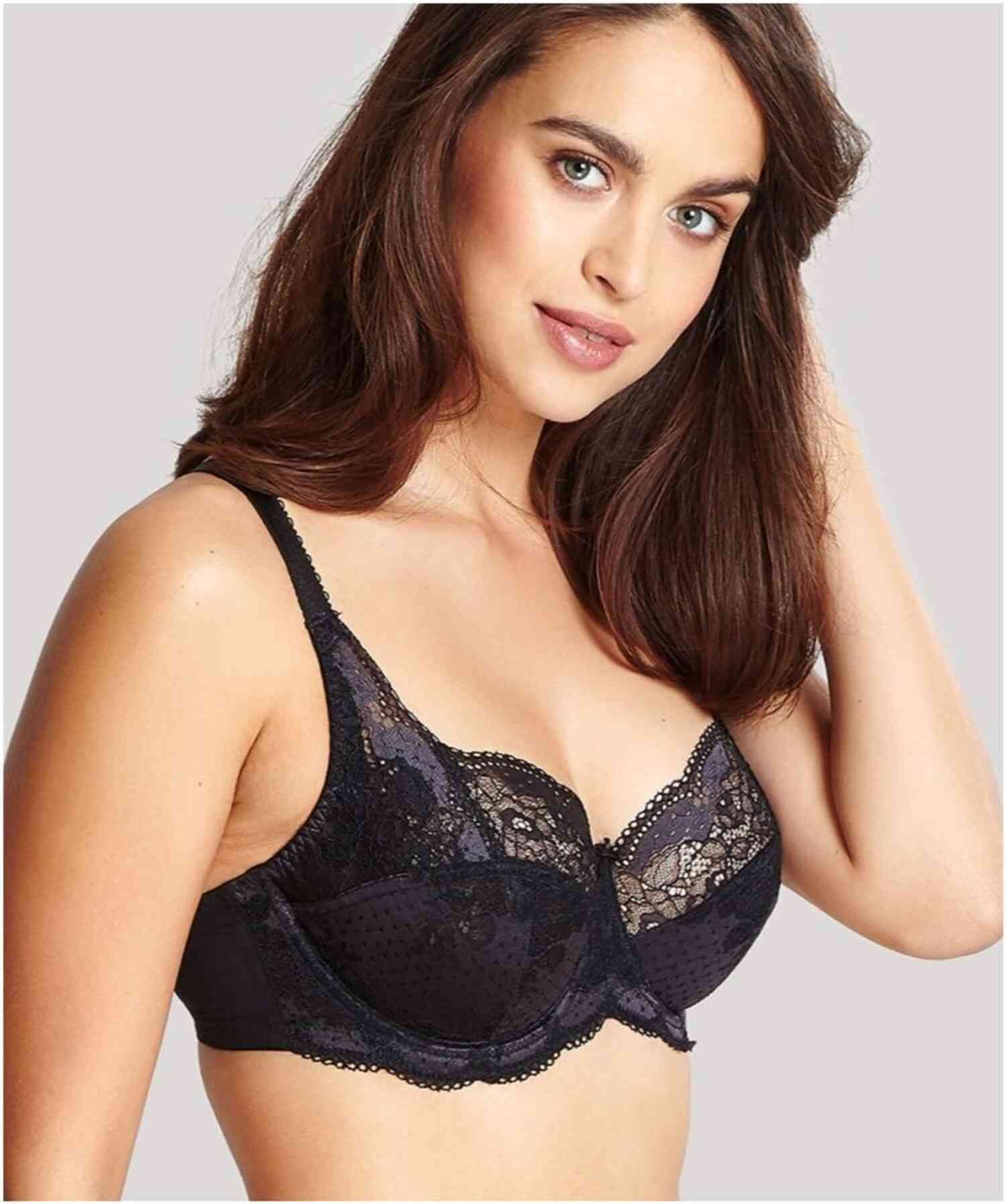 A Chance to Try Something New
Sara had helped me find the style of bra I was looking for, but what if there were others I might like? We decided to give it a try. I knew I had a lot to learn, and there might be something that worked just as well — or even better.
I liked all the options she showed me, and all were good fits. One offered slightly less lift but more comfort. Another was a "cut-and-sewn" bra, meaning the cup wasn't one smooth piece but made from pieces of lace and fabric constructed in a particular way to lift and fit. I had purchased bras like this before because they're so pretty. I was delighted learn that, in this case, pretty is also functional — cut-and-sewn cups are more durable and will support you more. Who knew?
The cut-and-sewn bra wouldn't be as smooth under a fine fabric, but I loved it. It was comfortable and feminine, but it also got the job done. Sara suggested black, because a black top wouldn't show lines as much — though it would also work just fine with looser styles or fabrics that have more body.
I also tried two "leisure bras", the kind that look like sports bras that you pull over your head. They don't give you the support of a sports bra, but they're comfy and casual for those days when you're around the house or running errands in your yoga pants and sweatshirt. I decided to buy the Allure store-brand leisure bra, which was a great price and super soft.
I went home with three bras but had found another three I loved. Sara created a record of my visit with all the details, so I could easily place a call or visit again to buy the others. No more trial-and-error adventures when it was time to replenish! I was thrilled.
But as you can tell if you've read this far, I also walked out with information. I now know a lot more about fitting, wearing and caring for bras. And I have a new appreciation for the skill it takes to fit each unique woman.
In Case You're Wondering …
Are you considering giving an Allure fitting a try? If so, you might be wondering about a few other things.
Is there something for my shape and size? Yes. I'd call myself a somewhat average size and shape. Allure had plenty for me to choose from, but they take pride in offering many choices for any kind of woman, whether slight or full. (You won't find 135 sizes in your average mall store.)

What if I'm shy? No problem. Sara was thoughtful at every step, knocking before coming into my fitting room, asking before helping adjust a strap, and making sure I had privacy. I was comfortable letting her help me try things on, but if you'd rather do that yourself that's OK, too. The Allure team will honor anyone's modesty preferences.

Will I feel bad about the bra I'm wearing now? Gosh no. Sara and her colleagues have seen it all — holes, safety pins, even electrical tape! "Women really know how to MacGyver our lives so we can get that last week of life out of bra," Sara said with a laugh. "We're women too, none of us were wearing the right size bra before we came to Allure."

What if I just need something for a special occasion? You're in luck. Although I was looking for advice about something I could wear in my day-to-day life, Allure has plenty for one-off solutions — a backless bridesmaid gown or a strapless cocktail dress, for instance.
After my visit, I thought about something Sara had said about her job at Allure: "This should be an empowering experience." And I realized it was. Putting on a bra (and yes, I do skip once in a while) is one of the many micro-challenges a woman manages each day. "Does it work with this outfit? Will these straps show? Dang, I'm jiggling too much in this top." It's a different list of frustrations for each of us.
For an hour at Allure, what I used to call silly little concerns were taken seriously. Better yet, I found solutions. That was a great feeling. I'll be back!